The first three photos in this article were taken by Brecon Lee, 13. Our youngest photographer to have contributed images for an article.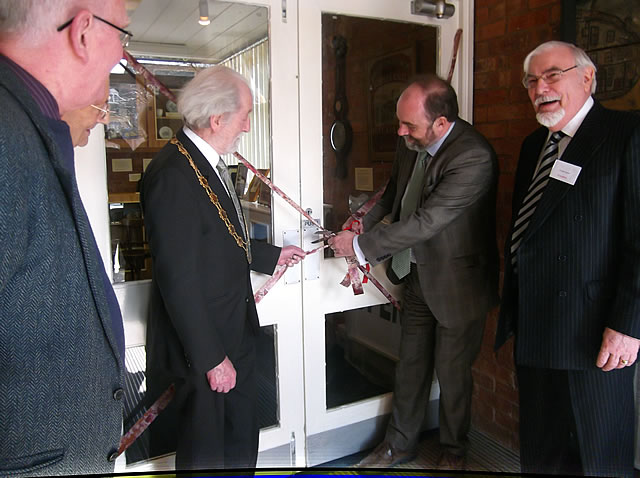 David Heath MP cuts the ribbon with current Mayor Colin Winder and former Mayor and Museum President Frank Foster.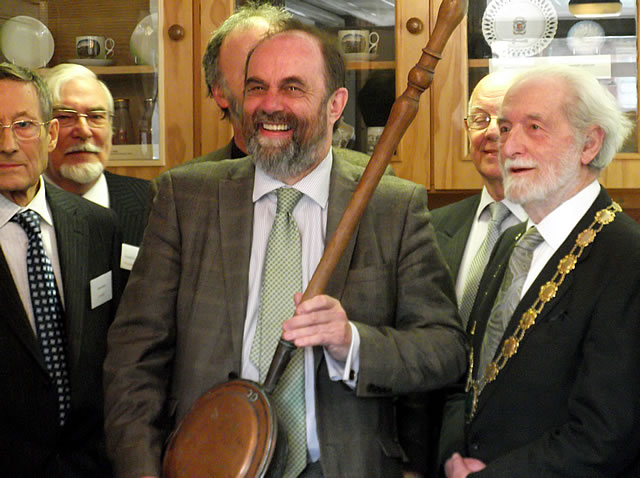 Members of the Museum Committee, Town and District Councillors and Library Operations managers together with around sixty supporters of the Museum and the library turned up looking their best to welcome our MP David Heath, Minister of State for Agriculture and Food, cut the ribbon and reopen the Wincanton Library.
He was welcomed by our President, Frank Foster, who thanked him for his long-term support of our and other small local museums and the Town and District Councils which have both provided grants to supplement the funds which members of the committee have raised.

In a short speech David Heath expressed his delight that the Museum had kept going despite losing its former home and emphasised that local museums like ours are vital for showing locals and newcomers, old and young that they are living in a place rich in history where streets, buildings, artefacts and people have surprising and fascinating stories to tell. Becoming aware of where we are and what has happened here gives us a real sense of place and contributes towards our sense of identity. Without such museums we would all be much poorer.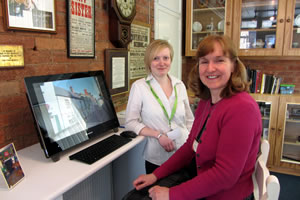 Chris Loghlin, Senior Operations Manager for the Somerset County Library Service and Cerian Amnery, Operations Manager for Mendip, told me that this partnership with the Museum will be a first for Somerset. Such partnerships are very important at a time when libraries are under financial pressure and need to attract more people into them to see the range of services they give people access to. These go beyond simply providing books to borrow. They also provide computer access, reference material and with their friendly and helpful staff can become an important hub for the community.
Saturday marked the culmination of nearly two years work by all the members of the Museum Committee, particularly our Curator John Atkins and our Chairman Dr Terry Stanford who have been involved in closing the old Museum in the High Street, moving our artifacts into a safe and accessible place for their storage and then working with the library to secure a room and then to have it properly refurbished with cabinets and a selection of artefacts and pictures put on display.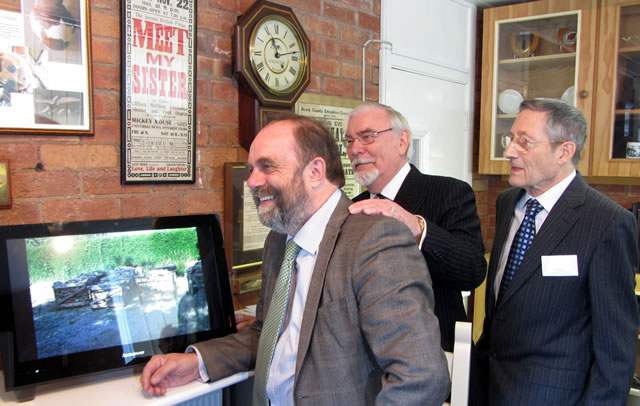 David Heath, Frank Foster and John Atkins
As anyone visiting the new Museum will see, the room we have is small and this means the museum will be developing in a new way. Already we have a website, www.wincantonmuseum.org.uk, which is accessible to all and which keeps us up to date with the very successful talks we have been having. It could, however, become something much more substantial, developing into an online archive of our present and our past in words and images.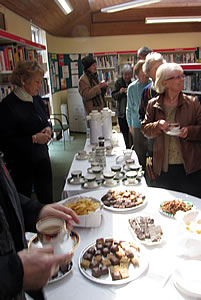 As well as pictures and artefacts which will be changed regularly we have also put in place a new computer. This will soon be connected to the internet, but initially it is able to show visitors slideshows of historic and near contemporary places and events in our collection of over 6,000 images and saved documents.
After the ribbon cutting – using the historic scissors used to cut the ribbon for the opening of the A303 bypass – everyone crowded in to see the new museum and then back into the library for a splendid tea with cakes and biscuits provided by Beryl Griffin and Helen Phillips.
The Museum now opens on Wednesdays and Fridays 10.00am – 1.30pm and on Saturdays 10.00am to 1.00 pm when stewards will be in attendance and the computer there for slide-shows, so do pop in for a new experience.